Bonjour à tous, je suis de retour sur la blogosphère pour,disons, une demi-heure, je passe mon BAC , alors je n'ai plus de temps pour moi et donc pour vous malheureusement , et j'en suis désolée , bref, un passage éclair pour vous dire que je mets mes santiags adorées en vente car simplement j'ai grandi des pieds et elles ne me vont plus, je les avais gardées dans l'espoir de pouvoir un jour supporter la souffrance intolérable que procurent des chaussures trop petites à mes pieds, mais mon sort en a décidé autrement et comme je prévois de partir à Barcelone avec mon chéri, c'est le moment ou jamais de rompre avec mes ambitions destructrices.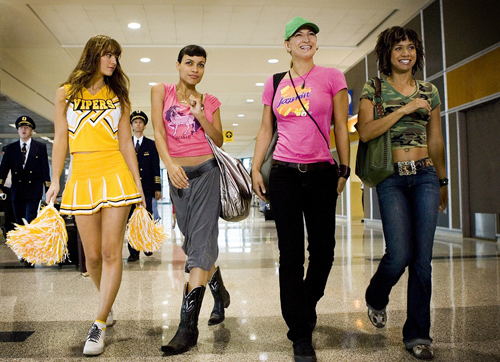 Bref, tout ça pour vous dire, qu'ayant prévu de les porter avec un sarouel à la Boulevard de la mort, je vous dédie cet honneur, mes chers lecteurs, je les mets en vente 40 euros, frais de port compris, elles vont être mise en vente sur ebay très bientôt , donc à vos claviers ! Si j'ai une proposition de blogger ce soir pour 40 euros, elles seront à lui, mais dès demain, il faudra enchérir !
C'est une taille 39, mais il faut plutôt faire un 38, voire peut-être 37,5, ça dépend de votre pied, et elles sont toutes en cuir, c'est une très bonne marque de bottes: Longhorn . Je les vends vraiment à regret car leur petit côté rockeur me faisait frémir (ouh, que d'émotions !)!
I sell my cow-boy bootties because they fit too small for me, I really love their rocky style but I can't stand them anymore, I never wore them, they're really new, so enjoy ! Tonight I sell them 40 euros ( with the transport price , for the ones who live in other countries, I sell them 35 euros and you pay the transport price ), tomorrow they'll be on ebay, and you'll have to bid , so hurry up !
sold